Before the Year Ends – You Can Transform Your Life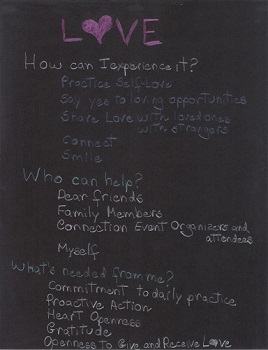 As the end of the year approaches, what can you change, transform and achieve before December 31st that will enhance your life's experience?
I've started a creative project about a month ago, working on designs, which will possibly be in T-shirts, mugs or journal covers. Although I'm not sure on the format, I can tell you that working on it, playing with colors, backgrounds, papers, texture, and tools have brought me great joy. And even if I don't launch it this year, or ever, when I shared the first design with a few people who got it, and felt inspired by it, I received and felt their Love.
How about you? If you didn't have to wait for the new year, and you could experience a personal transformation in the next 21 days, what would you like to focus on?
Before you continue reading, I invite you to sit in a comfortable position, close your eyes and breathe. Place your hands on your heart. Then, breathe into your heart's space and ask you heart what it needs this month. What does your heart and soul want to experience?
If you get multiple answers, write all of them down, and check how they feel. If you could choose only one of them, which one would it be? Don't think about the how when doing this exercise. Focus on your heart's desire and then pick the one it would matter to you the most.
Once you know the answer, check how it feels. Does it feel light and exciting? Does it feel heavy and yucky? If it indeed feels light, exciting, and even a bit scary, I encourage you to commit to it.
Did you come up with something tangible like publishing a book, starting a business, meeting a soulmate, having a gallery opening, getting a raise, changing careers, losing weight, exercising, meditating? Or did you choose an experience of more love, connection, happiness, joy, harmony, authenticity, self-expression, appreciation, gratitude, grace, intimacy, self-love, peace? If you chose something tangible, investigate it a little. What's behind your desire? How would you feel if you accomplished it by December 31st, or at least got closer to making it happen? Go to the root of it by asking "why do I want to…?" "What experience would it bring into my life?" "How would I want to feel?"
After you get crystal clear on THE experience you can't wait any longer to have, write it down on the top of a blank page. Then, while holding a connection to your heart space (breathe into it again if needed), write down the following questions, pausing after each one for the answers you will receive from your heart:
How can I experience it?
Who can help?
What's needed from me?
It is now time to add yourself to your calendar, add an action a day that will help you experience your deepest desire this year and:
Recruit others to help you get there;
Commit and recommit to feeling it, experiencing it;
Allow yourself to let go of any resistance and blockages to feel it;
And most of all, give yourself permission to experience it.
Ultimately, ask yourself how can I contribute to my life's experience? How can I open myself today to experience transformation? What do I need to let go of to experience it today and every day? What else is possible?
Feel free to recruit help from me and others in your life that can help you, and most of all recruit your OWN help, commit to your journey, and be willing to be and do whatever it takes to get there.
There are less than 22 days left in the year, make each of them count!
Namaste,
Elisa
PS. If you don't watch The Voice, I encourage you to listen to Queen's song Somebody to Love sang by Jordan Smith: http://www.nbc.com/the-voice/video/jordan-smith-somebody-to-love/2950103