End the Year on a High Note Workshop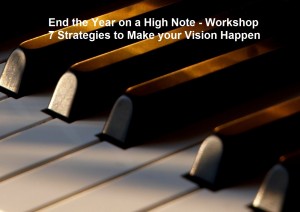 Before the end of the year, learn the actions you can take and the roadblocks you may need to clear, to set yourself up for success in 2013. I'll share 7 strategies to help you fine tune your vision, release blockages, and start taking steps in December to make your idea happen.
I spent at least 5 years writing on my journal every end of December, that I'd publish a book that year. During the first few years, I hadn't even started writing the book I ended up publishing. Learn what I had to do to make it happen by joining me on Monday, December 3rd on a 60-minute free call.
Don't wait until January to start taking steps towards achieving your biggest dreams. If you are ready to make 2013 the year you write your first book, start your business, promote your art, or take that leap you've dreaming of for years, sign up today, and learn the steps you can take in December to set yourself up for success.
Monday, December 3rd at 9:00pm EST. Sign up below, and you will receive the call number within 24 hours.
Please provide the information requested below. We will use your email only to communicate with you. We will not share it with anyone else for any reason.