How to make lemonade when life DOESN'T throw you lemons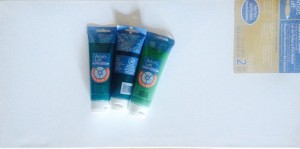 In November last year, I attended a weekend retreat in Cape May, NJ and stayed at my friend's B&B. He showed me a gnome sculpture, and asked if I liked it. I said yes. He then said that I should take it, that it was mine. And I gave him two reasons why I wouldn't accept it:
It's too heavy and I have a long way home. (I had a ride into Manhattan but had to take the subway to Brooklyn). He responded that he could ship it to me.
Gnomes belong in gardens, and I live in an apartment and don't have one. No argument there.
Last month he asked for my address, and I thought he was going to send me a card in response to the one I sent him. A week later he sent a message asking if the package had arrived. It hadn't. I thought he could be sending me the gnome, and I had to think about what to do in regards to the absence of a garden.
I decided to paint a garden for the gnome, and I figured it should be at his eye level. Since the package was taking longer than expected to arrive, I went to Michael's Art Supplies store and got 2 canvases 12"x24" and three shades of green paint in advance.
I've always liked the saying – when life throws you lemons, make lemonade. It's a good way to live. This article is more about what to do when you plan to make lemonade but don't get the lemons, though.
The package arrived the day after I bought the canvases, law of attraction at its best – let go of attachment, behave "as if", and you shall receive – except that it wasn't the gnome. It was a beautiful hard-cover sketch book with butterflies. It deeply touched my heart as I had recently shared with him what butterflies meant to me, and he remembered.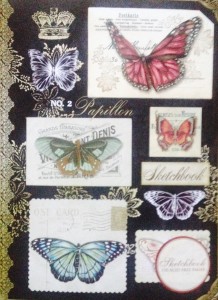 In the meantime, what should I do with the canvases? I asked myself. The first thought was to simply return them. They were still wrapped and in the bag. Then I thought I could come up with a different idea for the canvases, and paint something else. Finally, a friend said that I could use a garden myself, and why not paint it. What would you do? Would you return the canvas? Would you paint something else? Or would you stick to the original plan?
Well, it took me a while and I finally decided to paint it. I asked some people to send me pictures of their garden, without response. I started going through my own photos and found a few I could use. I got the idea that the garden would have a tree (possibly Almondy – a tree featured in my second book "Mending a Broken Heart – Lili's Magic Journey"), or at least a portion of the tree that a gnome could see.
If you are stuck with not receiving what you expected from someone, not getting the experience you need to get the job you want, not having the skills or courage to launch your dream business,  or not having lemons to make your lemonade, ask yourself the following questions:
How could I accept what is, and move forward with ease?
How aligned am I with my expectations? And am I open to receiving/achieving it?
How could I achieve my purpose by perhaps modifying the execution to get there?
Who else can I reach out for help?
What can I do with the resources I currently have?
Do I really need lemons or are there other ingredients that will make an even tastier lemonade instead?
What other resources do I need? How can I open myself up to finding new ways to reach my desires/vision/dream/goal?
Who could support me in my efforts?
How can I live as if?
What else is possible?
And if the only lemon you are missing is the courage to put yourself out there, to share your talents and gifts, to overcome the feeling of not good enough or the fears that accompany leaving one's comfort zone, I hope that the fact that I'm sharing my imperfect paintings below will inspire you to share your soul with the world as well.
It brought me great joy to paint the garden, and I'm so glad I chose not to return the canvases. If you look closely, you will find hidden magic…

What lemons are you missing? How will you make up for it? How can you bring joyful moments to your life with or without lemons? Feel free to share.
Namaste,
Elisa Balabram
PS. I am truly glad that I did not receive the gnome, they do belong in actual gardens.